Communication Matters Journal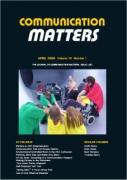 The Communication Matters Journal offers a multidisciplinary perspective on AAC. It is published three times a year in the UK. Members of Communication Matters automatically receive the journal.
The Journal is a collection of articles by AAC users, parents and AAC practitioners – teachers, therapists, engineers, researchers and others – mostly from the UK. Each issue is usually around 40 pages, and typically has eight major articles (each 2-4 pages long). The articles are on a mixture of different topics, including both low and hi-tech AAC, covering use by both children and adults.
We actively welcome articles written by AAC users and their parents/families. As much as possible, we use photos, tables, graphs, symbols and other illustrations to complement articles.
If you would like to contribute, we recommend you download some back issues of CM Journal to see what kind of articles we publish.
If you are interested in advertising in the Journal, please email [email protected].
If you live in the UK and are a Member of Communication Matters, the Journal is part of your membership package.
Outside the UK, you can subscribe by contacting the ISAAC Chapter in your country and paying in your local currency. If your country doesn't yet have an ISAAC Chapter, contact ISAAC International to arrange a subscription and pay in Canadian dollars.
Guidelines for Submission
To be considered for publication, articles for the Communication Matters Journal should:
We will not reprint articles in Communication Matters Journal that have already been published elsewhere, unless the author encloses formal written permission to reprint from the original publisher with their submission. The author may need to make substantial alterations, modifications and updates to the original.
If you require any further information, please email [email protected].