Two charities in the North of England have today teamed up to highlight the communication issues faced by those who have had a stroke using the hashtag #communication4ken – and to confirm that help is at hand! ACE Centre based in Oldham, and Leeds-based Communication Matters have been inspired by the plight of Coronation Street's much loved character, Ken Barlow.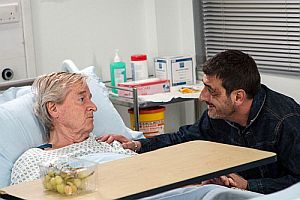 Corrie fans were heartbroken last week to see the street's longest-running character silenced due to the effects of a sudden stroke. Following the stroke, Ken was seen surrounded by the Barlow clan unable to communicate.
Anna Reeves, ACE Centre Manager, "Obviously everyone who has a stroke presents very differently, but difficulty with communication is a common issue post stroke. There are a host of strategies and resources that can help, including alternative and augmentative communication (AAC)." Some of those strategies can be found for free on the ACE website here: http://acecentre.org.uk/alphabet-charts and include an iBook 'getting started with AAC: Designing and using alphabet charts' found here: https://itunes.apple.com/us/book/id1090937118
"AAC comes in a variety of shapes and sizes, from paper-based alphabet boards and picture charts, to more complex computer and app based communication solutions. Whilst not all forms of AAC will be suitable for those with communication issues post stroke, something as simple and easy to create as an alphabet charts may enable Ken and others to continue communicating with their family and friends." Chair of Communication Matters, Ruth McMorran. Communication Matters help section can provide more information. https://www.communicationmatters.org.uk/wp/find-help
ACE Centre provide AAC information and advice to anyone who has little or no speech, and work alongside Communication Matters to raise awareness of AAC.
With a few simple resources and input from a Speech and Language Therapist, Ken could once again help to keep the wrath of Tracey at bay!
---
So help to spread the word of the importance of AAC using the hashtags #communication4ken and #AACawarenessmonth
https://www.communicationmatters.org.uk/wp-content/uploads/2018/07/logo.jpg
0
0
https://www.communicationmatters.org.uk/wp-content/uploads/2018/07/logo.jpg
2016-10-25 09:55:38
2019-08-02 12:27:17
Coronation Street's Ken Barlow has a stroke