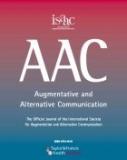 AAC is the official Journal of ISAAC, the International Society for Augmentative and Alternative Communication. It publishes original articles with direct application to people with complex communication needs for whom augmentative and alternative communication techniques and systems may be appropriate.
We are delighted that, following discussion with ISAAC, some of the articles have been made available for free download by ISAAC and Informa, the publisher of the AAC Journal.
If you are interested in other articles from the AAC Journal and other publications, please visit www.AACknowledge.org.uk which contains a wealth of information, including: published evidence, plain language summaries, case stories, fact sheets, FAQs, glossary and links.
https://www.communicationmatters.org.uk/wp-content/uploads/2018/07/logo.jpg
0
0
https://www.communicationmatters.org.uk/wp-content/uploads/2018/07/logo.jpg
2013-07-05 18:48:46
2019-07-31 09:28:18
Free Articles from the AAC Journal