WANT TO GET BETTER HELP AND SUPPORT FOR AAC USERS? TAKE PART IN RESEARCH!
Communication Matters set up the Research Involvement Network in September 2011. It is a list of people who are interested in taking part in research. The aim is to support and encourage research into in the UK. We are currently recruiting members in the UK.
Research is a process of gathering information and analysing it to increase our understanding of a topic or problem. Research can establish facts, solve problems or develop new theories. Findings from research into AAC could help the Government, the NHS and local authorities to understand better what services are needed. Research evidence can help practitioners to improve services and support for AAC users to communicate. You can help to ensure that our research will be directly relevant to the people who can benefit from it most, by sharing your knowledge and experience.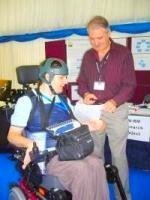 We believe it is important that more AAC users get involved, as it makes research more relevant and more likely to be used. We are particularly keen to recruit more AAC users, their family members and carers. The first AAC user to become a member of the Research Involvement Network was Simon Stevens, independent disability consultant, trainer and activist (pictured right).