1. EyeTech becomes the UK's newest Communication Aid supplier
2. Mind Express 5
3. Test & Protect Scotland App
4. GAATO@RESNA Open Inaugural Summit Session
5. 1Voice News
6. First intake for new MSc in Educational Assistive Technology in January 2021
7. "Readiness for AAC" – free Talking Mats resource from Ace Centre
8. Message to CM friends from the Events Team at University of Leeds
News from Communication Matters:
9. NEW Annual Meeting of Associate Members
10. NEW The CM Sessions: A series of Twilight Presentations for AAC Awareness Month – Draft Timetable Out Now!
11. We Are Looking for your Questions for our Q&A Panel Session
12. Aviva Community Fund
13. AAC User Focus Group Next Meeting
14. Communication Matters Facebook Photo Competition
15. Communication Matters Office
16. About Friday Announcements
1. EyeTech becomes the UK's newest Communication Aid supplier
From Neil Hansen, EyeTech International Ltd:
EyeTech Digital Systems Inc started manufacturing eye tracking cameras in the US in 1996. We recently added the EyeOn family of Communication aids with integrated Eye Tracking to our range.
In 2019 we setup EyeTech International Ltd to better support our partners around the world.
We are delighted to announce that our new UK operation is now open to anyone who needs it.
EyeTech International will deliver solutions and services in the UK & Ireland. Services we will provide include on-site & virtual: demos; visits; training; and assessment support. We offer free training, support and access to our support coaches.
For more information, contact:
Neil Hansen
nhansen@eyetechds.com
www.eyetechds.com
Eyetech has advanced eye tracking across multiple generations of technology. Our Eye Tracking has increased independence for tens of thousands of people with cerebral palsy, autism, MND, muscular dystrophy, traumatic brain & spinal cord injuries, and Rett syndrome.
2. Mind Express 5
From Ian Foulger, TechCess:
Techcess is proud to announce that Mind Express 5 has now been launched.
Mind Express 5 builds on the power and versatility of Mind Express 4 but with a completely new interface and an intuitive design.
Some of the new features include;
Remote Editing.
Change label according to grammar.
A new find word feature.
Onscreen wizards.
Multiple Dwell times.
Video Tutorials.
There are also new extensive pre-made pagesets available too.
For more information and to download a free 60 day trial please visit; https://www.techcess.co.uk/mind-express-5/
3. Test & Protect Scotland App
From Michelle Russell, Scottish Government:
The free Protect Scotland App from NHS Scotland's Test and Protect.  This is now available to download on protect.scot and via the App Store and Google Play.
The free Protect Scotland App is here to help keep Scotland safe from coronavirus.  The app is the next step in stopping the spread of coronavirus and complements existing contact tracing measures, helping us to determine contacts that we may have otherwise missed, and allows us to alert people at risk far more quickly so they can steps to reduce the risk of infecting others.
How the App Works:
This app uses tried and tested technology developed by Apple and Google and is already working successfully in other countries across Europe. It works in the background using minimal data to protect you, your friends and your family. Will automatically alert you if you have been in close contact with another app user who has tested positive, and if you test positive the app can quickly alert those you have had close contact with. The app is private and anonymous and by downloading it we can all help protect ourselves, our families and Scotland against coronavirus.
Please post on social media, discuss within your organisation and share the campaign information across your networks. The more of us using the app, the better it will work.
We have created versions of the Protect Scotland App Explainer Videos in additional languages and formats, including BSL, which are now live on the Protect Scotland App – Stakeholder Resource Page.
4. GAATO@RESNA Open Inaugural Summit Session
From Esther Dakin-Poole, GAATO:

We are excited to let you know about an open summit session from GAATO – The Global Alliance of Assistive Technology Organizations (www.gaato.org).
GAATO was legally established in Geneva, Switzerland in 2020 and includes many longstanding peak bodies like ARATA (Australia), AATA (Argentina), TREATS (Taiwan), RESKO (Korea), RESJA (Japan), EASTIN, ATIA, BATA and more.
GAATO hopes to fill a critical gap in coordinating global information and advocacy around Assistive Technology. GAATO is committed to information sharing and capacity building globally, and is proud to announce GAATO@RESNA.
This FREE event of global interest will be on at the North American RESNA Conference this month.
The link to register for the free GAATO@RESNA Summit is here.
For more information please see the Summit Programme attached or visit the Events page and News page on the GAATO website.
We very much look forward to welcoming you to this inaugural GAATO public event and please do share this news with your fellow AT colleagues.
5. 1Voice News
From Jo Cope, 1Voice:
1Voice Virtual Zoom Event:
Saturday 24 October 2020: Presentations and Quiz from 1.30-4.30pm and DJ Oli from 6.30-7.30pm.
Join 1Voice for some online fun. Hear from a number of our AAC Users on a range of topics and then join in the quiz. DJ Oli will be back in the evening with one of his famous discos. If you would like to do a presentation (no longer than five minutes), please get in touch at events@1voice.info. Contact Jo at events@1voice.info if you are coming to allow the meeting details to be shared with you.
1Voice Teens:
An exciting new Facebook group for AAC users aged 13 to 21. The aim of the group is for teenage AAC users to have somewhere to chat, make new friends and share stories. The group is private and secure and we only add people who are members. If you do not have a Facebook account but would still like to join you can use a family members but just remember to put your name after your post so we know who it is. We look forward to welcoming new members.
6. First intake for new MSc in Educational Assistive Technology in January 2021
From Rolf Black, University of Dundee:
We invite professionals and graduates from a broad spectrum of backgrounds to apply for this exciting new opportunity, especially welcoming applications from people who have experience of working to support disabled students in a variety of contexts and may not hold higher qualifications. The entry requirements for the course have been designed to be as inclusive as possible.
The programme will train individuals to implement and support the use of technology within education to enable students with a broad range of learning difficulties and/or physical disabilities access the curriculum.
The two-year part-time course will be delivered by a blend of distance and on-campus learning (depending on COVID-19 guidance) as many course participants will already be employed in education and social care organisations that provide services to disabled people.
Programme director Professor Annalu Waller will be supported by two lecturers with extensive experience of working with and teaching individuals with a wide range of disabilities, Rohan Slaughter and Rolf Black. Together, the team have over 90 years of experience in AT.
You can find more information about the programme at aac.dundee.ac.uk/MScEduAT.
7. "Readiness for AAC" – free Talking Mats resource from Ace Centre
From Katherine Small, Ace Centre:
This resource aims to support early conversations about AAC and to provide people with the time and space to think about whether they are 'ready' for AAC. A script, the symbols and a demo video are provided to help Teachers, SLTs, OTs etc to facilitate a discussion about 'Readiness for AAC' with their clients or family members.
For example it could be used with a parent of a child who has dyspraxia to help during conversations about whether to introduce AAC as well as working on speech; or it could be used when discussing the possibility of AAC with an adult who has been diagnosed with a progressive condition such as MND.
https://acecentre.org.uk/project/talking-mats-for-aac/ 
8. Message to CM friends from the Events Team at University of Leeds
From Anthony Lowe, MEETinLEEDS:
To All our friends at Communication Matters,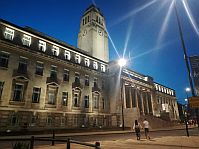 This photograph was taken especially for you showing Parkinson lit up in yellow on a day that should have been CM2020.
The team here at Leeds wanted me to write to you to let you know that we hope it will not be long before you return to us and that we recognise and support all your efforts for #SaveCM.
My colleagues have also been working with Emily and the Trustees in the preparation for The CM Sessions in October. Congratulations to all involved in creating this fantastic programme and we look forward to joining you in the social aspects of the programme.
Best Wishes and Stay Healthy To You All.
9. NEW Annual Meeting of Associate Members
The Communication Matters Annual Meeting of Associate Members is normally held on the Sunday of our Annual Conference each September at the University of Leeds. However, due to the COVID-19 pandemic, as you know we had to cancel this event and therefore the Board also made the decision to cancel the Annual Meeting of Associate Members. The Financial Statement for 2019 and minutes of the 2019 Annual Meeting will be made available in the Members' Area of the CM website in due course should you wish to access these. In the meantime, if you have any questions or feedback, as always please do not hesitate to contact us on admin@communicationmatters.org.uk.
10. NEW The CM Sessions: A series of Twilight Presentations for AAC Awareness Month – Draft Timetable Out Now!
As all our events have been cancelled this year due to the pandemic, instead we are hosting a series of virtual events throughout October (for AAC Awareness Month) to help raise awareness of AAC and vital funds for the charity.
The CM Sessions will have both academic and social elements and will be held every Thursday afternoon in October: 1st, 8th, 15th, 22nd and 29th.
Find out more about these virtual events, confirmed speakers and register at https://communicationmatters.org.uk/what-we-do/the-cm-sessions
A draft timetable can now be found here.
It is open to everyone so please share with anyone you think might be interested.


11. We Are Looking for your Questions for our Q&A Panel Session
The panel will be made up of AAC users and they want to hear from you!
If you are a young person using AAC, a family member or parent of an AAC user, or a professional in the area (beginner or experienced) – what is it that you want to know?
Please send your questions to our CM Trustee Andrea Sharples on andrea@attherapy.co.uk by 5pm on Monday 21st September.
12. Aviva Community Fund
We have reached just over 50% of our target – a big thank you to everyone who has supported us so far!
We still have to the 30th of September to keep building on this. If you would like to contribute or find out more visit our project page: https://www.avivacommunityfund.co.uk/virtual
The page is also open for donations from Aviva employees. They are each given a £25 voucher to donate to a project of their choosing. The more donations we have, the higher up the page our project will show as they are ordered by percentage raised so far! This will give our project a good chance of appearing on the first few pages on the website and be more likely to be seen by Aviva employees.
Please donate if you can and please share with your friends and family and on your social media. Thank you!
13. AAC User Focus Group Next Meeting
From Andrea Sharples and Laith Ritchie, ATtherapy:
Please contact laith@attherapy.co.uk if you would like to join the next meeting of the AAC User Focus Group. This is being held at 5.30pm on Tuesday 22nd September 2020.
The group acts as a focus group for Communication Matters and is a vehicle to hear the views of AAC users on CM and its activities and actions. This group is also undertaking some work on behalf of CM led by AAC users, for example, fundraising activities. This group is more suited for older AAC users.
14. Communication Matters Facebook Photo Competition!
We would love to receive a photograph of you using AAC to go on the cover of the next issue of the Communication Matters Journal which is published in November.
How to enter:
Please read the full terms and conditions here.
Please post your photo submission on our competition Facebook post and include one sentence describing your photo and the hashtag #MyAACinLockdown
Don't forget to share the post with your family and friends!
Good luck!
15. Communication Matters Office
Please note that the Communication Matters remote office will be closed next week from Monday 21st – Friday 25th September. The office will re-open as normal on Monday 28th September.
There will therefore be no Friday Announcements next week, but please email them in to be included the following week (on the 2nd October).
If you have any queries, please email admin@communicationmatters.org.uk and we will get back to you as soon as possible on re-opening. If you have an urgent query then our Deputy Chair can be contacted on vicky.healy@communicationmatters.org.uk.
Apologies for any inconvenience this may cause.
16. About Friday Announcements
These 'Friday Announcements' comprise weekly product updates, upcoming courses and supplier news.
Please email admin@communicationmatters.org.uk the item you want to be included by Thursday 5pm – no more than 200 words (one entry per organisation per week) – and include contact email and/or link so readers can find out further information – no file attachments please. Communication Matters will review, collate and post suitable submissions.
/wp-content/uploads/2018/07/logo.jpg
0
0
office
/wp-content/uploads/2018/07/logo.jpg
office
2020-08-07 08:25:17
2020-09-18 08:13:59
Friday Announcements – 18 September 2020