COMMUNICATION MATTERS PRESS RELEASE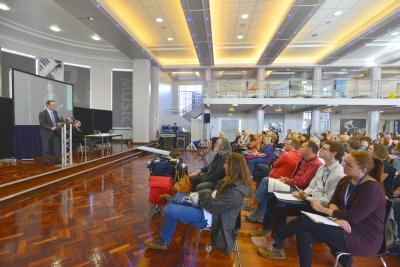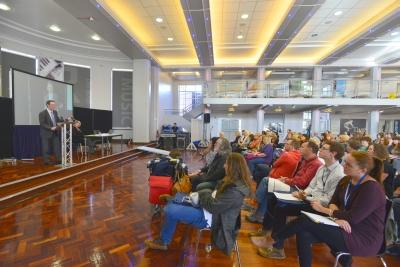 Paul Maynard, MP for Blackpool North and Cleveleys, called for more to be done to support those in need of Augmentative and Alternative Communication (AAC) following the annual conference of Communication Matters – the lead UK-wide charity which works for and brings together everybody who has an interest in AAC.
Paul joined 400 people who use AAC, parents and carers, along with professionals and suppliers in the field of AAC, to discuss cutting edge research and attend a wide range of seminars and practical workshops. The conference, a 'must attend' event for those in the AAC sector, identified a number of areas that are currently impacting on those who rely on alternative means of communication. These included:
How funding cuts across the board are removing the basic human right of children and adults with communication difficulties to have access to a 'voice'.
How children and adults with autism can use AAC to aid development, participation, behaviour and to support language and literacy.
How iPads and Androids have the potential to change the shape of the AAC world but face barriers to further usage around access methods, screen size and voice output volume, etc.
How people who use AAC are raising awareness in their local communities through innovative projects such as training South Devon police to understand the perspectives of those with learning difficulties in 'hate and mate' crime.
How eye gaze technology can support children with cerebral palsy and those with Rett Syndrome and how further research could shape practice for AAC with these individuals.
Recognition that AAC devices need to address and identify privacy and personal needs and problems, if they are to significantly support users with communication difficulties to achieve greater independence and social inclusion.
Catherine Harris, Chair of Communication Matters, says: "Communication is a basic right and our annual conference celebrated the fact that AAC changes lives. It enables people to develop relationships, interact effectively, express themselves, enjoy learning and fulfill their potential. It is an exciting time for the sector. Developments in adapting 'mainstream' technology have increased the range of options for people and the growth of access methods, such as eye gaze, provide people with alternative ways to use their equipment. However, these developments need funding and support services in place if they are ever going to be able to make a real difference. The conference is an important part of Communication Matters' work to increase awareness about AAC, improve service standards, disseminate and encourage research in the field alongside lobbying the government for change."
In the UK today it is estimated that over 300,000 children and adults will need AAC at some point in their lives. 10%, around 30,000, have the most complex needs, which demand access to specialised AAC services.
Two major reports in 2013 have helped raise the profile of AAC and provided the evidence required to influence government policy making. Communication Matters' Shining a Light on AAC and The Future of AAC Services in England from the Department for Education, have provided valuable insights on this important issue. As a result of both research projects, a range of tools and resources are now available that can help professionals, those using AAC, and their families to further their understanding and expectations in this area, including www.AACknowledge.org.uk – a first of its kind website that empowers AAC users, parents, carers and professionals to improve support and services for people with speech difficulties.
https://www.communicationmatters.org.uk/wp-content/uploads/2018/07/logo.jpg
0
0
https://www.communicationmatters.org.uk/wp-content/uploads/2018/07/logo.jpg
2013-09-23 22:04:05
2018-10-11 17:45:10
MP calls for more support for those who need AAC